I'm so sorry for all these spider photos.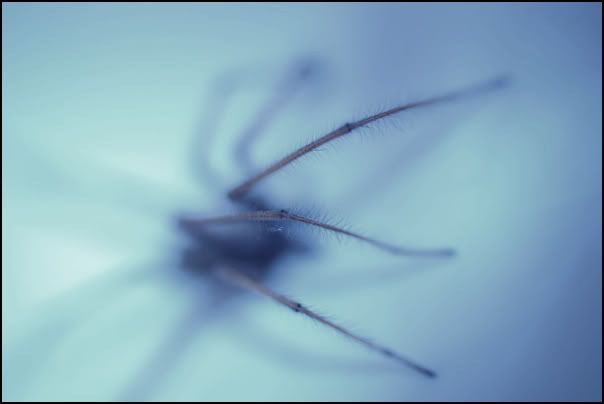 Click it for the larger, hairier version at flickr. As well as five or so other photos from today. Another spider, unfortunately, but a cat and a pretty flower as well. Very exciting!
This photo actually means a little more than the others. Friday night I had the most bizarre spider dream; our apartment was infested with the buggers. They were large and colorful and I had to save every one of them. The strangest part was that it was just the tiniest bit scary; I'm really not afraid of spiders. This particular spider today seemed to have manifested from my dream and I did, indeed, end up scooping him into a glass and taking him outside.
I had a photo yesterday, but it sucked because I meant to get the sunrise but ended up sabotaged by large black clouds. The result was unimpressive, and I don't intend to clog your list
every
day with a photo. And if it really is getting annoying, let me know, and I can at least put the daily photo behind a cut.
I believe this has been the first time in possibly two years that I've been posting on an almost daily basis. I certainly would not have thought that a likely outcome of this project. I suppose it's a good side effect...? I have been feeling I need to post more often, if only because life is going by so fast and I don't want to miss a second of it. Life is too wonderful for that.
Edit:
Also, due to the fickle relationship I have with my camera - i.e., many ideas that simply won't manifest however I fiddle with it - I have dubbed him Jekyll. And when he angers me, Hyde. Thus he joins the ranks of my other named electronics - Roan, my external harddrive, Euric, my laptop, and Lamar, my shuffle. A moment of silence in remembrance of Tim the Saturn, Mildridge the Ford Taurus, Vered the old shuffle, and Clio, my first laptop.