I'm going to try from now on, for better or for worse, to post a photo every time I post. This will either stop me from posting entirely, or help me take more photos on a daily basis of ordinary things instead of just when Lady and I go do something fun.
We get a bi-weekly bin filled with local fruits and vegetables and it's been overly excellent. Certainly during the winter we had more than our full of kale, chard, and cabbage, but beyond that we usually receive a nice variety. This week in our bin were blueberries, nectarines, plums, corn, zucchini, carrots, beets, cherry tomatoes, grapes, and spinach. It's a lot of deliciousness and I've learned how much I love fresh produce. Zomg. Just look!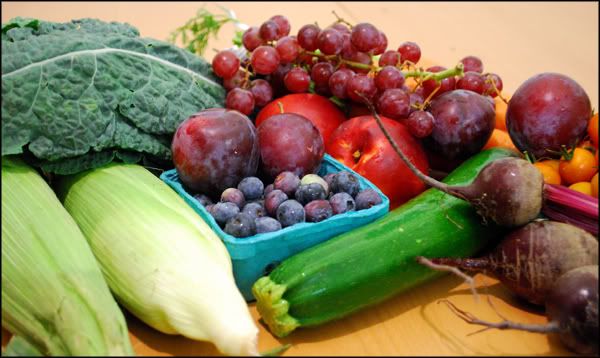 I'm looking forward to fall and all the wonderful things that will come then. Specifically the squashes. We had so much fun with the squashes last year. Butternut squash curry...mmm.
I've had food on the mind a lot lately, mostly because I'm just starting a sort of diet, so of course I want what I can't have. It's nothing drastic; just calorie counting and a little reduction to help rid myself of these extra pounds I've gained since moving here. Hopefully I'll have them shed by December. In the meantime, no pastries, no cookies, no vending machine snacks, and as many fruits as I can stomach. Which is quite a bit, so I might still have to be careful.
This need to take control of my weight stems from a need to take control of my life, and an introspective-ness that has been plaguing me since I didn't get into grad school. I figured turning 23 was a good time to start these kinds of things. Moreso than the New Year, which has never had much impact for me. So instead I will take this upcoming year in which I will be older to achieve some goals that have been eluding me for a while. Like losing the ten pounds I gained sometime in college. And finishing a complete edit of a novel. And writing another. And finishing the edit for
that
. And becoming more proficient at photography. I'm looking to even take a class at the community college, money permitting. I will probably apply to grad school again, but I have no hope of getting in. I will also, most importantly, spend less time on the computer. Two hours a day at reading up on photography or writing, yes. Like studying.
Counting down to a splendid weekend on the coast...